HSD088IPW1-A00 Overview
HSD088IPW1-A00 is a 8.8 inch diagonal a-Si TFT-LCD display panel product, with an integral WLED backlight system, without backlight driver, without touch screen. It features an operating temperature range of -20 ~ 70°C , a storage temperature range of -30 ~ 80°C , and the maximal vibration level of 1.5G (14.7 m/s²). It's general features are summarized in the following: Hight Brightness, WLED Backlight, Bar Display . Based on its features, we recommend that this model be applied to Stretched Bar LCD, Automotive Display etc.
Screen Size:8.8 inch
Resolution:1920x480
Brand: Hanstar
Brightness:600 cd/m² (Typ.)
Light Source:WLED , 30K hours , W/O Driver
8.8 Inch 1920x480 Stretched Bar LCD
HSD088IPW1-A00 Feature
-Full Viewing Angle
-High contrast
-High Brightness
-Wide temperature range
-Low power consumption
Application
For Computer Case Secondary Screen,Automotive Display,etc.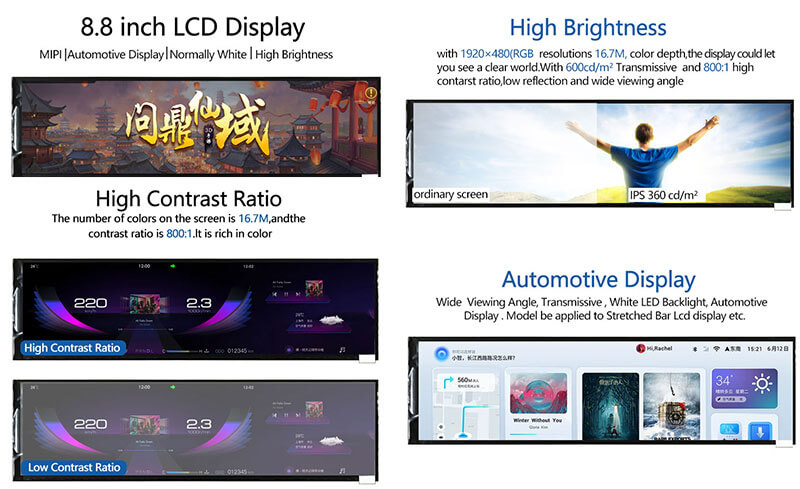 More SKU To Choose
-HSD088IPW1-A00
-HDMI to MIPI board
-HSD088IPW1-A00 with HDMI board
-mini HDMI cable